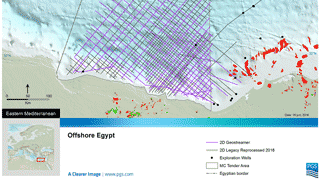 PGS collected more than 150 km of data per day, on average, from the end of March to the middle of May 2016. This new data complements reprocessed legacy data for this area, which will be available in July 2016.

Processed data from the new survey will be available from December 2016. Imaging and assessment of the new geophysical data will be performed in collaboration with the Egyptian Natural Gas Holding Company (EGAS).

Both the results of the new acquisition and the reprocessed legacy data will be the basis for data packages and for delineating exploration blocks in future Egypt licensing rounds. The next licensing round is anticipated in 2017.

The western Egyptian Mediterranean Sea area is comparatively underexplored. From south to north, it covers a narrow shelf zone including the south-north trending Matruh Canyon, a transform margin, parts of the Herodotus Basin and (to the northwest) the Herodotus Fold Belt. This is a region that merits closer inspection, with the presence of proven Jurassic/Cretaceous oil and gas plays, Nile sourced Pliocene sandstones and pre-salt carbonate build-ups analogous to Zohr.

Advanced pre-stack depth migration (PSDM) will be performed on both the reprocessed legacy 2D data (10 300 km) and on the new broadband 2D GeoStreamer dataset (7 300 km). The results will be available by the end of 2016. The new imaging products will reveal the petroleum potential in this exciting frontier area.