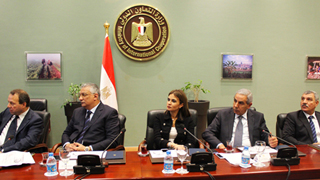 Egypt's Minister of International Cooperation Sahar Nasr signed a second $1 billion tranche loan agreement with the director of the World Bank in Cairo.

On Tuesday, the World Bank's Board of Executive Directors approved the release of the second tranche of a $3 billion loan package to support Egypt's economic reform programme, according to a statement on the international cooperation ministry's website.

In 2014, Egypt embarked on a plan to introduce a number of fiscal reforms, including fuel subsidy cuts that raised prices by up to 78 percent, as well the imposition of new taxes to ease a growing budget deficit, currently estimated at 12.2 percent of GDP.

Egypt received the first tranche of the loan, worth $1 billion, in September.

The current portfolio of the World Bank in Egypt includes 25 projects with a total commitment of about $8.5 billion.