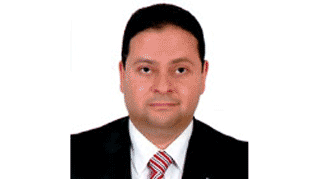 As Egypt looks to shore up its defenses against cyber threats, the government's new legislation on cybercrime comes as a welcome move. With the ICT industry in Egypt set to play a central role in driving the economy, it is imperative that the country invest in securing its ICT infrastructure, currently valued at over $15 billion. While a lucrative regional market, Egypt still needs to catch up with its western counterparts when it comes to cyber security.

Currently, Egypt is witnessing significant economic and technological transformation as a result of growing business opportunities in key industries such as banking & financial services, insurance, energy and information technology. While the Year-on-Year economic growth in Egypt remains impressive, the fast evolving threat landscape has diversified, making Egypt one of the most targeted country in terms of cyber crime.

In the year 2015, Egypt ranked ninth according to the Global Cyber security Index (GCI) which is based on the ITU global Cyber security Agenda (GCA). Furthermore, in the past few years, a number of Egyptian websites have been subject to cyber attacks from various fringe groups and 'Hacktivists'. The Rassd News Network (RNN) was hacked several times between 2012 and 2013, and the university website for Banha University was also hacked by the infamous 'Anonymous' group during the same time. These events triggered the Egyptian government into establishing the High Council for Cyber-Security (HCC) in 2014.

Amid growing concerns over cyber crimes in Egypt and the need to secure critical infrastructure from sophisticated hackers and commercial espionage is driving the regional cyber security sector into a US$ 2.2 billion market which is expected to increase at a CAGR of 20.41% until 2020. Tarik El-Sherif, the Head of Information Security Risk Management Division at Al Ahli Bank of Kuwait – Egypt believes that Egypt needs to step up its cyber security infrastructure to global standards to stay competitive in the current environment.

He says "The objective is to apply the principles of Information Security global standards such as ISO 27000 Series, COBIT5, PCI-DSS or Basel under government laws, as well as manage and maintain a secure framework and working environment by plan, develop and implement Information Security Policies, Procedures, Controls which ensure Confidentiality, Integrity and Availability, ensuring that information assets and technologies are adequately protected"

With key industrial sectors like banking, energy and IT reeling under the stress of upping the ante in terms of cyber security, there has been an increasing consensus about government involvement in ensuring cyber safety. To that effect, Dr. Hossam Nabil, Head of Information Management Section Cybercrimes investigation department at the Ministry of Interior-Egypt said "Talk has recently increased on Bit Coin, it is noted in this regard that the concept of the currency and how it is used and the risks that have to deal with is still not clear in mind and especially its impact on the national security of States".

As Egypt inches closer to becoming the hub of cyber security thought leadership in Africa, the Cyber Security North Africa Summit will bring together top cyber security leaders from leading public and private sector organizations to address the growing concern over securing critical infrastructure against cyber attacks. The summit will witness an impressive speaker line-up including Dr. Sherif Hazem – VP for Electronic Transactions Security at Information Technology Industry Development Agency (ITIDA), Dr. Hossam Nabil – Head of Information Management Unit at the Cybercrime Investigation Department (Ministry of Interior), Dr. Moataz Hassouna – CIO at Emaar Properties, Mohamed Ahmed Abd El Haleem – CISO at the Ministry of Electricity and Renewable Energy and Dr. Emad Helmy – Business Continuity Executive Director at the National Telecom Regulatory Authority, to name a few.

With an innovative format featuring panel discussions, live demos, case studies and roundtable discussions, the summit will focus on securing critical infrastructure, IoT and mobile security, cloud security, the role of big data analytics in cyber security and business resilience, IT governance and risk management. The Cyber Security North Africa Summit is organized by Fleming, and will be held on the 26th and 27th of April 2017 in Cairo.