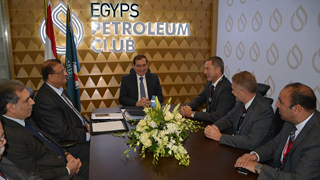 Eng. Tarek El Molla, Minister of Petroleum and Mineral Resources held talks with a number of CEOs of Foreign oil companies on the sidelines of the Egyptian Petroleum & Gas Show (EGYPS 2017) .He reviewed with the CEO of Halliburton Oil Services Company and the accompanying delegation, the developments of the petroleum industry in Egypt. The CEO of Halliburton asserted on their commitment and support for their work in Egypt especially in the fields of technology, training and raising the equipment efficiency as well as the company's contribution to the renewable energy domain.

The Minister also discussed with a number of Canadian oil companies, in the presence of the Canadian Ambassador to Egypt, the cooperation in the domain of mineral resources in which Canada achieved remarkable progress. Moreover, the economic reform program currently being implemented, as well as, investment opportunities in the Egyptian market. The Minister invited the Canadian companies to invest in the latest gold mining bid-round.

The Minister met with the CEO of Total Co. and the accompanying delegation to discuss increasing the company's investments in Egypt and the work program in North El Hammad concession area in the Mediterranean. They expressed their optimism for the future of this area, especially after the latest major Gas discoveries in the Mediterranean.

Furthermore, the Minister received the head of the IFP Group, specialized in the upstream activities, in addition to technology and projects licensing. They asserted on their desire in accessing the Egyptian market in light of available activities, considered a good environment for investments. The major IOCs working in Egypt asserted that this period is the perfect timing to access the Egyptian Market.