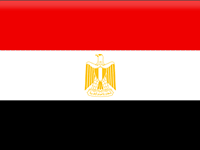 Eng. Yehia Zaki the chairman of the Suez Canal economic zone received Ambassador Gareth Bailey, the UK ambassador in Cairo, Mr. Nigel Topping, the high-level United Nations representative for the International Climate Conference, and a high-level delegation from the embassy.

The visit was in the presence of the Vice-Presidents of SCZone and some of the development and success partners at SCZone's headquarters in Sokhna, the visit purpose was about identifying the SCZone's assets that enabled it to be the preferred destination for investment in comparison with its counterparts in the region. The visit included discussions about SCZone's targeted industries and its strategy for the transition towards a green economy.

"SCZone is qualified to be a global hub for green hydrogen industries. It has a huge potential in terms of its distinguished location and competitive advantages, including investment incentives and a network of facilities and infrastructure". Eng. Yehia Zaki declared.

Eng. Yehia Zaki demonstrated SCZone's five-year plan "2020/2025" which includes "Creating Opportunity" strategy through the targeted industries and the investment incentives. The green economy is one of the targeted fields for SCZone and its applications such as the green hydrogen industry. SCzone can be an important global hub for green hydrogen depending on the geographical proximity of the markets for clean energy products in Europe and the natural gas export network.

On the other side, the British ambassador praised the Egyptian country's interest in SCZone as part of the development movement happening in Sinai. He expressed his admiration for the strategy set for SCZone, whether targeting specific industries consistent with many global investors or the interest in clean energy, coinciding with Egypt's hosting COP27.

Mr. Nigel Topping, the United Nations high-level representative for the International Climate Conference, expressed his happiness about Egypt's hosting for the COP27. He also expressed his readiness to cooperate in this regard and to benefit from his participation in organizing the previous version of the COP26 conference in Glasgow, Britain.

The chairman of SCZone, the British Ambassador, and the United Nations representative for the climate summit met with some of SCZone's partners in development and success to discuss business development in SCZone according to their experiences.

Eng. Yehia Zaki accompanied the ambassador and the delegation to explain the current development in Sokhna port. The development includes the final works related to the 6 basins and their berths with their various activities such as container terminals, general goods terminals, a multi-purpose station, a rolling station for cars (Ro-Ro), a liquid bulk station, coal station, chemical goods stations, and other infrastructure projects.