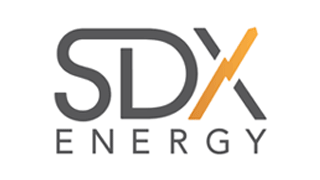 SDX Energy Plc (SDX) is pleased to announce its unaudited financial and operating results for the three and six months ended 30 June 2022. All monetary values are expressed in United States dollars net to the Company unless otherwise stated.

H1 2022 Key Highlights:
- Production of 3,724 boe/d, 2% higher than mid-point of recently increased full year guidance of 3,480 - 3,795 boe/d
- Out of nine wells drilled across SDX's portfolio in the year to date, six are now producing, one, MSD-27 has now completed drilling and another, MSD-20, is drilling ahead. These two wells should add a further gross 400 to 500 bbl/d to our West Gharib production in the next four to six weeks. The final well, MA-1X, is undergoing testing and analysis.
- EBITDAX of US$15.3 million and operating cash flow (before capex) of US$10.4 million
- Capex US$12.2 million compared to full year guidance of US$25.5 - 27.0 million.
- Net Cash position of US$12.8 million (unaudited) as at 30 June 2022
- Carbon intensity of 3.8kg CO2e/boe in H1 2022, one of the lowest rates in the industry
- Aleph Commodities Limited introduced as new cornerstone shareholder. Assisting with strategic review, expansion and financing plans with a focus on increased production, reserves and shareholder returns

Mark Reid, CEO of SDX, commented:

"The results for the last quarter have been both positive and encouraging with our production from Morocco and South Disouq ahead of our guidance and the drilling success seen at South Disouq earlier in the year already contributing to cashflows. Whilst mechanical issues with a rig at West Gharib mean that production is slightly lower than forecast, our success with the remainder of the wells, including as announced today, MSD-27, means that we are now achieving gross production of approximately 2,400-2,500 bbl/d from this concession, and we are set to continue to add valuable barrels to our production mix as the year progresses.

We believe that continued strong operational performance from the Company has been overshadowed to some degree by corporate news in the past quarter, with the proposed combination with Tenaz Energy ultimately not progressing and the introduction onto the Company's register of a new group of shareholders led by Aleph Commodities Limited. We are very pleased to welcome the Aleph shareholders as long-term investors who are aligned with Management's strategy of growth and increasing returns for all SDX stakeholders. We look forward to updating the market further as we work with our shareholders to map out what will be an exciting future for the Group."

Three and six months to 30 June 2022 Operations Highlights

- H1 2022 entitlement production of 3,724 boe/d was 2% higher than recently increased 2022 mid point guidance of 3,638 boe/d, driven by strong performances in Morocco and at South Disouq, with West Gharib's production lower than expected due to the mechanical issues with a previous rig that has now been replaced. West Gharib production is expected to increase in the second half of the year.
- The Company's operated assets recorded a carbon intensity of 3.8kg CO2e/boe in H1 2022 which is one of the lowest rates in the industry.
- In South Disouq, the planned three-well drilling campaign has been successfully completed. The SD-5X and SD-12_East discoveries have been brought online ahead of schedule and are now contributing to production and cash flow. The MA-1X gas discovery well is in the process of being evaluated to determine a commercialisation strategy.
- In West Gharib the MSD-21, -25, -24 and -23 wells have been successfully completed and are on production. Today, the Company is pleased to announce the completion of drilling at the MSD-27 infill development well. The well encountered 137.3 feet of good-quality, net oil pay sandstone, with an average porosity of 22.8% in the Asl Formation reservoir. MSD-27 will now be tied-in to the existing facilities and flow tested. Operations at MSD-20, which had been temporarily halted due to the replacement of a rig, have now recommenced and, assuming trouble free operations, the well should reach its target horizon by mid-September. The development drilling campaign is aimed at growing production to c.3,500 - 4,000 bbl/d by mid 2023
- In Morocco, the SAK-1 exploration well was spud on 6 August 2022 and is targeting the Guebbas Formation reservoir at around 1,108m MD (1,095m TVDSS). The well will also fulfil the remaining commitment on the Lalla Mimouna Sud Concession. SAK-1 is the first of a fully-funded, two-well drilling campaign on the SDX Gharb Basin acreage which is expected to take place during Q3 2022 with three further wells being considered for Q4'2022.

Three and six months to 30 June 2022 Corporate Highlights

- On 25 May 2022, it was announced that the boards of directors of Tenaz Energy Corp. ("Tenaz") and SDX had reached agreement on the terms of a recommended share-for-share combination pursuant to which Tenaz would acquire the entire issued ordinary share capital of SDX (the "Combination") which was proposed to be effected by means of a Scheme of Arrangement under Part 26 of the Companies Act 2006 (the "Scheme"). On 30 June 2022, Tenaz announced the introduction of a cash alternative that was made available under the terms of the Combination, through which shareholders of SDX could elect to receive cash instead of some or all of the share consideration to which they would otherwise be entitled to under the terms of the Combination. On 29 July 2022, SDX convened the Court Meeting and General Meeting in connection with the Combination. The total votes in favour of the resolutions were 48.30% at the Court Meeting and 54.27% at the General Meeting, which were below the minimum threshold (75% of those shares voted) needed to approve the resolutions. Accordingly, certain of the conditions of the Scheme were not satisfied and, consequently, the Combination has been terminated and the Scheme has lapsed.
- During July 2022, a group of shareholders led by Aleph Commodities Limited ("Aleph"), acquired 25.65% of the issued share capital of the Company and in doing so purchased 18.72% of the Company previously owned by Waha Capital PSJC. Aleph confirmed that it is assisting the Company with a strategic review and expansion plans with a focus on increasing production, reserves and shareholder returns.
- Aleph Commodities Limited is a global trading and investment company, founded in 2018 by former executives of Deutsche Bank, Goldman Sachs, JP Morgan, Engelhart Commodities Trading Partners, and Credit Suisse, supported by several large US and European family offices who are also shareholders of Aleph.