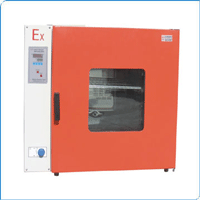 it is the first generation of anti-explosion drying cabinet that is the result of research and development efforts by our own staff as per the relevant anti-explosion standards of China, and has been tested and qualified by the Chinese national quality supervision and test center of anti-explosion electric products. The certification number is: CNEX07.1756 CNEX07.1678. It is suitable of using in the laboratories in the explosive hazard gas environmental 1 and 2 areas for the purpose of drying, baking, and sterilization etc.

Structure:
The case is made of high quality steel plate with the process of punching and finished by new arts of spray; the whole working chamber is made of SS plate with two layer of SS shelves; the door is made of double tempered glass for easy observation of the articles in the chamber; the joint part of the chamber and the door is made of heat resistance silicone rubber sealing to ensure the tightness between the chamber and the door.
The heating thermostat system in the cabinet is mainly consisting of anti-explosion centrifuge fan and electric heater, appropriate air duct construction and MC anti-explosion controller.
Air valve regulator can adjust the inlet and outlet air quantity in the cabinet through operating the air valve adjusting knob.