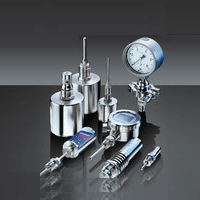 Baumer sensors and measuring equipment for process technology are exceptionally precise and stable, matching application needs to the fullest. Particularly in extreme environmental conditions, they must deliver exact measurements. Process automation places extreme demands on the accuracy and reliability of meters and sensors. Good product quality extends life cycle, reduces maintenance cycles, increases process safety and efficiency.

TE1 – Individually Configurable Temperature Measurement System
With the TE1 range, Baumer offers a temperature measurement system which measures process temperatures -50...250°C. The TE1 can be configured individually according to customer needs. It is also available with 3A approval for hygienic applications.

The TE1 range has a stainless steel field housing. The system is available with different industrial process connections as well as hygienic connections. Thus, it can be used in the industrial area like chemical engineering, water treatment or energy management, as well as for the pharmaceutical industry or the food and beverage industry.

The flexibility of the system offers a wide range of configuration possibility to the customer. Thus, fast response sensor tips for accurate and fast measurements of process temperatures are available: Standard DIN A or B, single or double elements connected via 2-, 3- or 4-wires can be supplied according to customer request.

Besides the sensor tip and the process connection, the customer can also configure the sensor tube dimension, the accuracy of the sensor element, an optional cooling neck, the electrical connections, certificates and the sensor tube lengths. The customer can also choose between a ceramic terminal block and one of four configurable FlexTop temperature transmitters which communicate either with a standard 4...20 mA output, a HART or a Profibus PA interface. If an external temperature transmitter is needed, Baumer offers a range of units with the FlexTemp series. A surface mounted version of the TE1 sensor is available for processes where a direct media contact is unwanted.