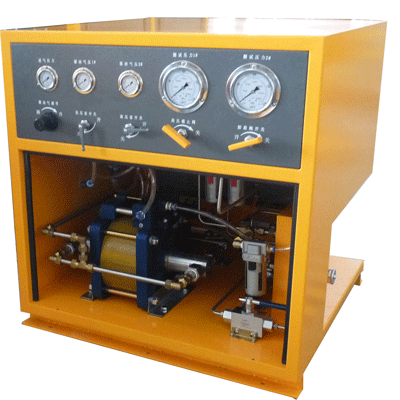 Standard: API 16, SY/T5127, API 16A, SY/T5053.1 and API 16C, SY/T5323.
Application: Hydraulic test and functional test for blowout preventer, christmas tree, choke & kill manifold. Especially suitable for the manufacturers of well control equipments and scientific research and inspection.

Technical Data:
- Test pressure: 0~280Mpa
- Constant pressure range: 5%~100%FS
- Test medium: Water or Oil *(Consult factory for special)
- Pressure precision: ±0.5%FS
- Pressure control precision: ±1%FS
- Timing ra: 0 ~ 999h
- Driven a0.5Mpa - P- 0.8Mpa
- Power supply: 220V AC, 50Hz
- Control Method: Manual/Auto
- Min Pressure (Mpa): 1

Features:
- Fully automatic operation controlled by PC+PLC, supports real time display of pressure values and time, etc., Test data saved automatically and test report exported for further analysis, Wide range of output pressure up to 400Mpa, Stable and reliable IVS-Test Software, easy operation and monitor, All high pressure valves, pump, tubing and fittings made in USA with 316SS to guarantee high testing precision and stability and Suitable for use with various fluid media.

- Solderless connection and taper sealing, easy and convenient to disassemble.
- Data acquistion and display *(Optional):
Paper/Paperless Recorder, Pressure Digital Indicator, Chart Recorder.