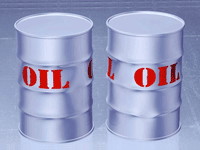 New York oil prices sank close to a four-month low as traders eyed a deepening Greek debt crisis, stronger dollar and resurgent worries about the Chinese and US economies, traders said.

New York's main contract, West Texas Intermediate (WTI) light sweet crude for July delivery, plunged to $91.14 a barrel -- the lowest point since February 23. The July contract, which expires at the end of trading on Monday, later recovered to $91.79 a barrel, but this was still down $1.22 from Friday's close. Elsewhere, Brent North Sea crude for August shed $1.59 to $111.62 a barrel in early afternoon deals in London.

"Crude oil prices extended (pre-weekend) losses, dragged lower by persistent concerns about Greece," said analyst Myrto Sokou at the Sucden Financial Research brokerage. "The euro reacted straight on the news and came under further pressure against the US dollar, weighting heavily on most commodity prices and pushing oil prices lower. "In addition, recent weak macroeconomic figures from China and the US confirmed a potential slowdown in the future oil demand," she added.

The European single currency dropped to $1.4232 on Monday from $1.4301 late in New York on Friday, amid uncertainty over an international bailout for bankruptcy-threatened Greece, analysts said. A stronger greenback makes dollar-priced raw materials such as crude oil more expensive for buyers using weaker currencies.

In turn, that tends to weigh on demand and prices. Eurozone ministers said blocked loans due to bankruptcy-threatened Greece under last year's bailout should be freed up by "mid-July," as they wrapped up crunch weekend talks. Athens will now receive a disputed 12-billion-euro ($17-billion-dollar) fifth bailout installment once the Greek parliament passes a new austerity package.

Markets worry that a default on Greek debt could trigger a cascade of problems in Europe's bigger economies, including Spain. Such a domino effect could again devastate the global financial system, much like the massive crisis of 2008. "Oil prices continue to be worn down by pressures concerning the Greek debt crisis, which is affecting markets globally," said Victor Shum, an analyst with Purvin and Gertz international energy consultancy in Singapore.